Milan and Lisbon – two very different cities – share at least one common trait: they both operate vintage streetcars as part of their regular public transit system. While distinctive and generally admired, Milan's trams haven't been adequately promoted by the transit company (ATM) and the city administrators. A missed opportunity for sure, if you think of the iconic status achieved by London's double deckers, which are ultimately nothing but diesel-powered buses with very little character.
In Lisbon, instead, tram route No. 28 has deservedly become an icon, but  several more lines are still in operation and feature the same rolling stock. Their diminutive single-truck streetcars (locally known as eléctricos) are each rated for a maximum of 58 passengers, 38 seated and 20 standing, but when they were designed (in the early 1900s) people were smaller — and they certainly did not carry backpacks.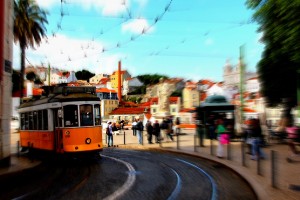 Eléctricos  are roughly half the size of a Milan double-truck streetcar but look remarkably alike, even down to the white-over-yellow livery. You'll find them incredibly packed and uncomfortable, but the noisy, jerky ride is great fun and offers priceless glimpses of old Lisbon.
You'll see signs warning passengers against pickpockets, a rather real hazard in those confined spaces, so make sure your valuables are stored in a safe place. You can board the eastbound tram of route No. 28 in the old town, at Rua da Conceição corner of Rua da Madalena, but chances are you'll have to wait for the next car as the first one that comes along may be already full.
Your streetcar will eventually wind its way uphill on its narrow-gauge tracks zooming past pedestrians and barely missing balconies and brick walls. The stop at Largo Santa Luzia is next to a great overlook (miradouro) offering panoramic views on the old town and the Tagus river. From there you can also climb to the Moorish Castelo de São Jorge. Further up, the route will stop at the Monastery of São Vicente de Fora, from which you can walk to the Feira da Ladra fleamarket and the huge domed church known as the National Pantheon..
The first tram service in Milan was rolled out in 1876, with horse-drawn cars carrying passengers to nearby Monza, 16 kms (10 miles) away. Seventeen years later, the electrification process of the tramway network began and was eventually completed in 1901, the same year in which Lisbon's streetcars were electrified! The Italian city's trams in their yellow – and later green – livery became a very familiar sight and their operation was never interrupted to this day.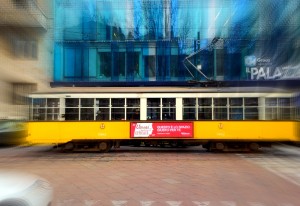 At the time of maximum expansion of the Milan streetcar network, some 500 vehicles of the latest type (Model "Ventotto", or Twenty-eight) had been built. Of these, 200 are still in operation.
These streetcars were modeled after the US-built Peter Witt cars and looked strikingly similar to the vintage New Orleans trams that inspired Tennessee Williams' famous play A Streetcar Named Desire (Desire being the actual name of a New Orleans urban railway line).
Milan's transit company has been selling many of the mothballed surplus cars to its counterparts in various parts of the world. The city of San Francisco operates eleven Ventottos, some of which have even retained the original white-over-yellow color scheme. More cars have been bought by an American manufacturer that has built replica cars on the original wheel trucks and sold them to the city of Charlotte, in North Carolina, to operate a heritage streetcar line, the Charlotte Trolley. As is the case both in Milan and Lisbon, this heritage line is part and parcel of the city transit system and not a separate attraction.
A regular public transit ticket is all you need to ride a Twenty-eight streetcar in Milan and sit on its benches of varnished wood while it clangs and rumbles through the city streets. You can board one of these historic streetcars next to the main rail station (Milano Centrale): Lines 5 and 33 stop in Piazza IV Novembre (NW side of the station) and Line 1 can be boarded in Via Settembrini (corner of Via Scarlatti) on the SE side of the station. I would recommend the latter for a nostalgia ride through the city center. The one-way journey to Corso Sempione will take around 40 minutes on a total distance of 6,000 meters (4 miles) and 19 stops. Once you get off the streetcar at the Arco della Pace stop, you may choose to walk through Sempione Park all the way to the Sforzesco Castle and reach the Duomo in about half an hour.
You don't have to be a tram aficionado to enjoy riding these old cars – whether in Milan or Lisbon – and your experience will be pretty much the same as it would have been a hundred years ago. Where else would you get such an opportunity for virtually no money at all?