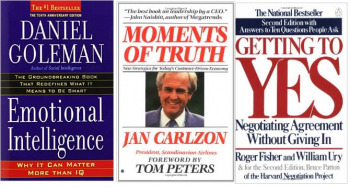 As a consultant and trainer, I go through books like a snowplow. Having amassed more than three decades of experience on the sharp end of business, I cherish those books that help me make sense of it and convey it to my clients and seminar participants.
There are three old books that take pride of place on my bookshelf.
Emotional Intelligence by Daniel Goleman
This book contains Goleman's ground-breaking insights into the tensions between reason and emotion, and the role that Emotional Intelligence (not IQ) plays in interpersonal relationships. Leaders who are long on IQ but short on EQ have their work cut out for them. Ever come across such types?
Getting to Yes by Roger Fisher and William Ury
The book contains the valuable findings of the Harvard Negotiation Project and is a step-by-step guide showing how anybody can achieve win-win solutions to negotiations and conflicts. Here's a statement you'll never forget: Separate the People from the Problem. You'll also learn the meaning of a mysterious acronym: BATNA.
Moments of Truth by Jan Carlzon
This small book can be hailed as the forerunner of the "customer-centric" approach and the empowerment of customer-facing employees. Carlzon's vision of a flatter organizational structure and a new leadership paradigm is clearly outlined here. The original Swedish title, significantly, meant  "Tear the Pyramids Down".
Two of these books (Emotional Intelligence and Getting to Yes) are still in print and even available in Kindle format. Carlzon's Moments of Truth went out of print way back in 1989 but it can still be found and purchased on the Internet.
Finally, one of the many reasons why I love these yellowing old classics is that they don't follow the more recent, annoying trend of numbering the key factors of whatever the book's subject is.
You know what I mean, i.e., The 7 Best Practices That Will Make You a Great Leader; The 27 Secrets of Successful Self-Starters; Gaddafi's 5 Biggest Mistakes, etc.
This pervasive format is really getting on my nerves.