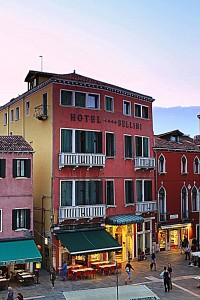 What's good advice worth?
Back in the days of steamship voyages, experienced British travelers would pick the right cabins for their crossings to and from India based on the formula "port outbound, starboard home"(*), so that their staterooms would always be on the shady, cooler side of the ship. These were the most sought-after cabins for the long crossings and the first ones a savvy travel agent would know to recommend to his upper-crust clientele. Choosing a cabin at random would have made for a pretty sweaty journey and a frightfully annoyed British customer.
The hotel and apartment rental operators on the Asian side of Istanbul promote their accommodations as being more reasonably-priced and located in quieter neighborhoods than those of their competitors on the European side. They conveniently omit the fact that the look and feel of the Turkish metropolis changes dramatically when you cross the Bosphorus.
The "real" Istanbul is on the other side. If you stay in the Asian district of Kadiköy, the fascinating skyline of the Sultanahmet hill with its world-famous mosques looks tantalizingly close, but it might prove a nightmare to reach. The road bridges are solid with traffic and your taxi ride will prove long and expensive. Crossing by ferry is a better solution, although far from ideal.
If you're a tourist or a business person whose interest lie on the European side, stay there. A knowledgeable travel consultant would tell you just that.
Feel like a hop to Frankfurt for a weekend stroll down the Konstablerwache? Or going to Messe Frankfurt for a trade exhibition? Don't be fooled by the Ryanair sham of calling their airport Frankfurt-Hahn. The city of Frankfurt lies way off to the East of Hahn and your café table on the Konstablerwache is exactly 125 kms away, that is 2 + 2 hours of your German weekend wasted.
If it's Frankfurt you want, fly to the real Frankfurt am Main airport, which is located just on the outskirts of "Mainhattan" and extremely well connected to the city center. This is good advice  because it does not originate from Ryanair.
Don't you love those amazing photos of ochre-colored Ligurian villages nestled on the side of a steep green hill and mirrored in a sea of deep blue? Wouldn't you want your room to be the one located just a few steps away from the beach, with a great, unobstructed view of the Mediterranean? Of course you would. But before you click the Buy button, take a look at that apartment or hotel from a different angle.
If you have its address, look it up on Google Maps. How far is it from the railroad and the coastal highway? When Liguria came out of the sea a few zillion years ago, nobody thought of making room for railroads and traffic lanes.
A large majority of Ligurian apartments and hotel rooms are blighted by the vicinity of a busy road or train tracks (or both). It pays to check this out before you fall in love with that delightful room with a view.
Did you know that you can drive to your home away from home in Venice, park on the street and take your bags to your apartment in a matter of minutes? If you're traveling with children or a disabled person, this can make a world of difference. And you can be in Piazza San Marco in less than 20 minutes with Venice's fantastic skyline drawing nearer as your vaporetto approaches its destination.
All you have to do is book your accommodation in Venezia Lido, which is to say Venice's beachfront neighborhood. When you approach Venice from the mainland, exit at Tronchetto and board a car-ferry to Lido. As simple as that. Does your average travel consultant know this?
New York is a fascinating side to America. So incredibly different that many Americans (and assorted world travelers) do not consider it as part of the United States but a microcosm apart. And even within the Big Apple, its five boroughs (Manhattan, Queens, Brooklyn, Bronx and Staten Island) each have their different identities. But your average white-knuckled tourist doesn't have a clue and is therefore excused if s/he thinks that the New York experience they have in mind can be had anywhere in NYC. Flatbush in Brooklyn and the Upper West Side in Manhattan are worlds apart, also pricewise. Where is it safer to take a midnight stroll? This is where expert advice comes in to save the day (and possibly the whole travel experience).
Several years ago, just before the Internet Age, my SO and I decided we wanted to ski in Canada. We picked Banff, a well-known location in the Canadian Rockies. We meant serious business and we brought our own skis with us all the way from Europe. After we landed in Calgary, we took a Brewster Transportation bus to Banff and we got there in the evening after a 2-hour ride. The next morning, as the European alpine skiing tradition dictates, we walked out of our hotel in full skiing attire, shouldering our skis with the panache of black-run aficionados. After all, we'd skied the Italian Alps and the Dolomites, Deux Alpes in France, all of Tyrol, and Davos in Switzerland. We knew our stuff. What we did not know was where the stupid ski-lifts were located. There were no signs outside the hotel and the most ominous clue was that nobody else was dressed for skiing. Uh-oh.
That morning, I leaned my skis against the wall and walked back in to see the concierge. I asked him where the ski-lifts were and he said: "They're in Lake Louise, up that way".
"Up that way" turned out to be 60 kilometers down the Trans Canada Highway, so our morning skiing began at the Avis counter where we rented a car.
We had pictured ourselves walking over to the ski-lift like we'd done countless times in Europe and we were dead wrong.
You might ask yourselves at this point: Where is all this going? I think you already know.
In the Internet Age, Mr. and Ms. Tourist don't need any help to book almost anything from the comfort of their own home. That's why more than half of the world's travel agencies have gone belly up.
Where travel consultants can play a vital role, one that will be greatly appreciated and bring those customers back to them, is when their sound advice and expert knowledge of the locations made a difference in
the customers' stay. (And this doesn't just apply to the travel sector. Good advice is added value in every industry).
And now, if you'll excuse me, I must self-plan my rollerblade tour of Nepal at Christmas.
(*)The notion that the adjective "posh" originated from this formula as an easy mnemonic has been all but proved a myth. It's a so-called "backronym" with no actual foundation in reality. I thought you might want to know.