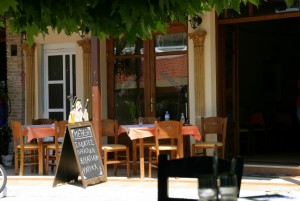 The old Greek gent wearing a fisherman's cap looked up and nodded when my girlfriend and I walked into the taverna and sat at a table not far from his. I nodded back and said kalispera in my barely passable Greek.
We were in Itea, a sleepy little seaport on the Gulf of Corinth, and the year was 1977. We were on a low-budget car tour of Greece and this place was ideal for us. No nightlife, no luxury hotels, just a nice beach, a couple of tavernas and some no-frills accommodation.
We ordered the standard Greek fare of souvlakia and salad, with two large beers to quench our thirst, and started chattering in Italian about the day's events. By the time the skewered cubes of meat  were served, our beers were at half-mast. The young waiter promptly brought us two more, which we actually hadn't yet ordered.
When I looked at him quizzically, he pointed at the old Greek fellow and said: "The beers are paid for by the Kapetanios."  I mulled this over for a few seconds, then I told my girlfriend I'd be right back. I walked over to the older gent with my fresh mug of beer and sat at his table. "Kalispera, Kapetanie – I said – let me thank you for the beers. That was very kind of you".
He looked relieved that I knew some Greek and a slow smile crinkled up his weathered face, then he spoke.
"I want to tell you a war story. In 1942 this area had been under Italian control for some time. One day, as I was mooring my fishing boat at the jetty, this Italian NCO walked up to me and told me the Germans would take over control of Itea the following day and replace the Italian troops. I'd already met this soldier several times before, because he would often buy my catch for his platoon, so we were on friendly terms.
"But this time he told me he was well aware I had arms and ammunition stored in my cellar and that the Germans would put me in front of a firing squad for that. So he shook my hand as he was leaving and told me to do something about my arms cache.
"I worked through the night and, in the morning – when the Germans rolled in preceded by their sidecar motorbikes – I was clean as a whistle. But I heard that other people collaborating with the Greek resistance had been summarily rounded up and shot."
By this time I was totally speechless at the drama that was being recounted. But the Kapetanios pressed on.
"So you see, young man, for the past thirty-five years, every time I came across an Italian I always bought him a drink".