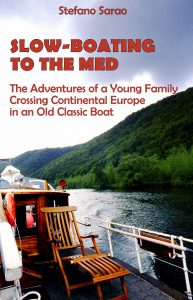 Four years ago, I wrote here about my love story with a classic boat, the Wairakei II, and about the weeks my family and I spent on board when we sailed her through Europe, from north to south.
What I failed to mention was that I had kept a ship's log, taken scores of pictures, and saved charts and documents about my Channel crossings and trip to Italy through the inland waterways of Belgium and France.
Not only that, I had amassed hours of video footage!
Unfortunately, having moved houses (and countries) several times since the early 90s, this treasure trove of information lay somewhere in a packing box—or more likely in more than one.
The ship's log was the first item to surface, entirely by accident, as I was looking for something else. I just couldn't believe I had found my journal and I went through it more than once, reminiscing about those events that had transpired three decades prior.
Many episodes I had forgotten turned into vivid images the moment I read my log entries that described them.
This find spurred me to look for the rest of the material, which I eventually did and, quite incredibly, it was all there!
I then came up with a plan, the first phase of which was to gather the material for one or two videos.
In trying to convert the old VHS tapes into mp4 files, my friend who has the necessary equipment ran into some trouble, but we eventually managed to extract everything.
The quality is what you would expect from VHS tapes of 30 years ago, but it's still more than acceptable.
So I moved on to Step 2 of my plan. I wrote a book called Slow-Boating to the Med. (The Adventures of a Young Family Crossing Continental Europe in an Old Classic Boat) and published it on Lulu.com.
While I was writing my book, I also put together two YouTube videos, one dedicated to our Channel crossing to Dunkirk in 1990, and the other to the actual boat trip through Europe.
Now I believe I have finally done justice to my old boat and those epic days.