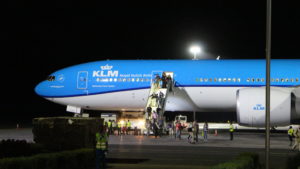 The Boeing 777-300 Extended Range operated by KLM between Amsterdam and Kilimanjaro Airport, Tanzania, finally lands at this small middle-of-nowhere airport and taxies to the tiny apron in front of the even tinier concourse.
Airstairs are rolled up to the plane and we, the weary travelers, descend into the African evening.
It's 30° C but bone dry and pleasant. It's been a long day from Amsterdam to here (we took off at 10:25 and it's now 19:50 local, just one hour ahead of CET). Most passengers are headed to a wildlife safari or a climb of Mt. Kilimanjaro. My goal is more mundane, a 5-day stay in Arusha for a training seminar.
I've collected my backpack from the overhead locker, and soon—after the immigration chaos— I'll be picking up my suitcase from a luggage carousel.
My 5-year-old Kindle e-book reader, however, is still on board. I left it in the seat pocket on the back of seat 31 C, the one before mine.
By the time I enter my hotel room in Arusha, one hour away from the airport, I realize my Kindle has gone AWOL. No, let me rephrase that, Kindles don't go anywhere. I'm the idiot who left it behind.
JRO (Kilimanjaro Airport), believe it or not, has a lost-and-found facility—at least on the Web. I fill out my lost-item report and abandon all hope as I key in my details.
Five days later, I go through the immigration and security checks at the same shambolic airport (if I were a continuous-improvement consultant I'd make them an offer they can't refuse) and see no lost-and-found office. Hah, I knew it.
Well, that's the beauty and the curse of websites. They need no physical location, and the Arusha/JRO lost-and-found is probably just some IT whiz-kid having fun.
We take off into the night to Dar es Salaam and on to Amsterdam. I sit next to a middle-aged Dutch doctor, who works for the Amref NGO, and his lovely vrouw (almost identical to the German word Frau) and she's a very sweet lady.
However charming my Dutch neighbors are, after we land in Dar es Salaam I turn myself into a modern-day mummy (with blanket, earplugs and sleeping mask) and try to catch some Z's before we land at Schiphol.
There I have a 3-hour layover until I board my KLM flight to Milan. Since I first set foot in Amsterdam/Schiphol 35 years ago, the place has become more wonderful every year. This here, ladies and gents, is one hell of an airport. Just for the purpose of killing time, I walk to an Information Point in the main airside concourse. I tell a very professional and friendly airport employee about my lost Kindle and she points to a touch-screen nearby.
"File a report, sir" she says. I do what she says and I stagger back to my gate to wait for my connection. I think to myself, "What the heck, it can't hurt…"
By the time I get home, there's an e-mail waiting for me and it says, "We will inform you within 5 days if your property has been found. Yours sincerely, Lost & Found, AMSTERDAM AIRPORT SCHIPHOL" 
Yeah, whatever. My Kindle is old and worth nothing, but it's traveled everywhere with me. Instead of buying a new and better one, I decide to wait.
Today, I get an e-mail from Schiphol L&F that says, "We have good news for you! We have found your E-reader. We have registered it under XYZ." To make a long story short, I've arranged—through the Schiphol website—to have my Kindle couriered to me.
The whole operation costs 43,83 Euro (probably more than my old Kindle is worth) but it's still very reasonable. After all, someone has to claim the item from Schiphol L&F and FedEx it to me.
For €43,83 I couldn't fly to Schiphol and back to claim it. Today, on Day 6 after my online report. I just got a shipment confirmation that my old Kindle will return home in 2 days' time. Amazing.
As an aging curmudgeon, I don't necessarily love everything digital, but this particular episode has left me speechless.
Edit: My runaway Kindle just got home in one piece…